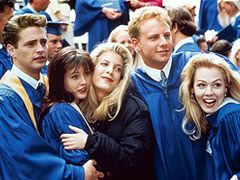 Remember when I posted a while back that
Tori Spelling
would
not be appearing
on the new
90210
afterall, due to her recent childbirth to daughter Stella? Well, turns out I was wrongly informed.
It turns out, in fact, that Ms. Spelling has been
DE-NIED the same sum
as her original co-stars
Jennie Garth
and Goddess
Shannen Doherty
to appear on 90210 2.0 . And as one would expect, the horse-faced actress is
not
a happy camper! Because of this, she has
retracted her decision
to return to the zip that made her famous.
Is Tori unattractive? Yes. Was she the worst "actress" to stem from the original 90210? Absolutely. But, I must agree with Garth, when she states, "Her father created the show." Good point. And for that alone, I definitely think Spelling should be offered the same amount of money as Garth and Doherty. Perhaps the producers figured Spelling has no career, so she'd probably walk on set for free, for that matter. I mean Doherty has no career, but let's be honest--she'd be worth all the millions and trillions in the
world
to reprise her role.
Garth apparently doesn't speak to Spelling anymore, but says of her former co-star, "I'm really bummed because I love Tori and I was psyched Tori was going to be on the show. I don't know what really happened because I haven't talked to her. I would like to talk to her."
Doherty is probably stoked. More screen time for
her--
I mean afterall, she
is
the only 90210 character people
really
care about. The only thing she had to offer for comment was, "They didn't even get the numbers right so I don't know if it's about the money either." How profound...