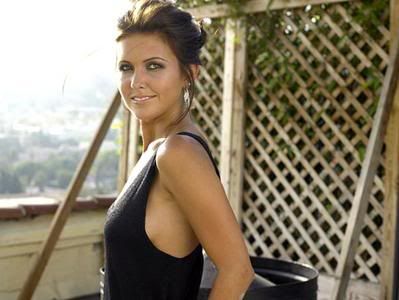 We all know that there is much more
fakeness to The Hills
than just
Audrina Patridge
's too-large-for-her-body breasts and
Heidi Montag
's--well--everything. But it's always amusing how time and time again, the stars of the show
insist
nothing is staged, and everything happens the way it airs. Well, except for
Speidi
, who has no problem admitting their fights were all imposed (as if we didn't know).
But I am guessing as the show's popularity continues to increase, one by one, the stars are being a bit more open about the faux-ness of the MTV hit because they know that at this point, people will still watch. Patridge is the latest to have leaked some secrets. According to the "AboutMe" section of the reality star's
blog
:
"Born the eldest of four children in Downey, California, Audrina has always aspired to become an actress in Hollywood, and as soon as she turned 18, she signed with a small management company in LA. She honed her craft by participating in drama classes and private acting lessons, taking a job at Quixote Studios as she waited for her big break. Living a stone's throw away from the MTV production of "The Hills", Audrina was spotted sunbathing by the pool and asked by a producer if she would like to join the cast. She happily accepted her role as the dear friend of Lauren Conrad and Heidi Montag in what was sure to be the beginning of her enticing career."
What's funny is about a year ago, I had actually heard the rumor that Patridge was indeed cast for her role on The Hills. Now it's interesting that she's pretty open about it. I also find it funny that she's from Downey, CA, when she continuously claims she reps "OC." Downey isn't even in OC, FYI. In fact, Downey is like the furthest thing from representing that typical "OC image" people have. But hey, at least we now know that Patridge's former Quixote (Season 1) gig was actually legit--unlike the gigs her other castmates had on the show.