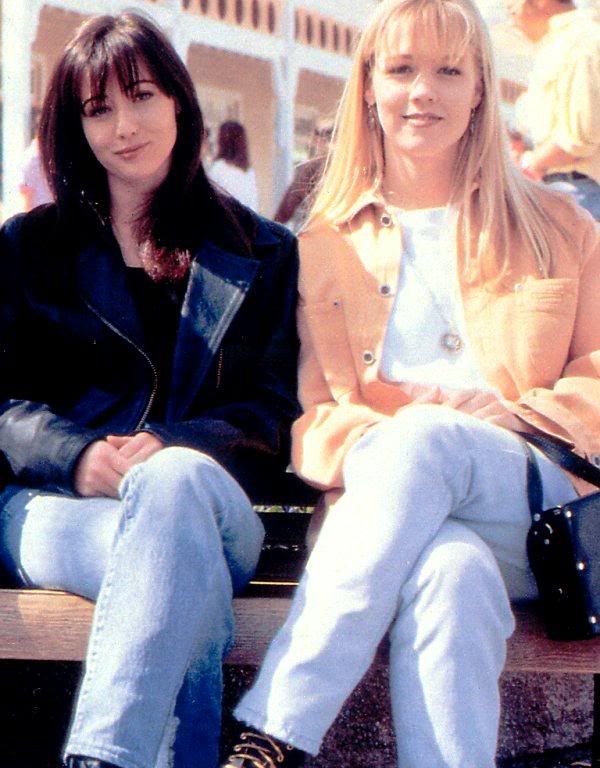 Your prayers have been answered, folks. Not only is it likely that praiseworthy Shannen Doherty will be back on the BH scene as Brenda Walsh, but the latest news is that
Tori Spelling is no longer joining
the cast afterall. She proclaimed throughout interview after interview that she couldn't wait to get back to the zip-code that made her famous, but apparently that zip-code don't want her nasty azz (not that we can blame it). Or maybe it's simply because she just had a baby and
isn't ready to go back to work
. I'd like to think it is the first reason. ;-)
Or, perhaps, now that all the buzz is around Shannen's triumphant return, perhaps Horse Head feels intimidated. Here she thought she had her chance at the spotlight, but no one can steal Shannen's thunder. No way Jose! Nobody wanted to see Tori and her gawd-awful acting skills overdramatize Donna's role again anyway. So this is much better. Looks like it's going to be Brenda vs Kelly. The two gals are still probably bitter about Dylan. Brenda needs to whoop Kelly's ass--something she never had the chance to do back in high school. Ugh, Brenda + Dylan 4eva [sigh].
Other 90210-ish stuff:
After work today, I just *had* to drive to Beverly & Martel to scope this 90210 filming which was rumored to be taking place. Well, sure enough, there was indeed filming going on. Whether it was The Peach Pit (as stated prior) or even whether it was the 90210 cast for that matter--remains a mystery to me, because it's not like I'm going to recognize all the members of the spin-off's Z-list cast (oh, except Lori Laughlin--the F-lister).
Additionally, today while I was in Rite Aid in Studio City (yes, the same place where I saw the freakish nail lady), I happened to be in line right in front of
Meg Wittner
, who played the role of mom to a deaf child who Brandon befriended during the Beverly Hills Beach Club days (ahh...good times). Wittner also had a role on Melrose Place as Billy's seductive boss at Escapade magazine. Kinda coincidental that I ran into her of all people on today of all days. She had a grumpy vibe though, so I dunno... She probably has a big head knowing even though she's a Z-lister, she had minor roles on two of the biggest Primetime dramas in TV history.