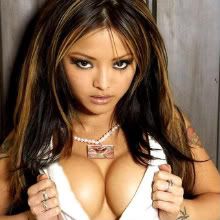 Tila Tequila may be a lot of things—slutty piece of tatted-up trash and star of a really bad faux-ality show—just to name a couple. But history maker? I think not.

The classless hot mess appeared at yesterday's premiere of "The Love Guru" in Hollywood and told reporters, "[The legalization of gay marriage] is because of me — I definitely think [my show] has helped the movement. Before it came out, everyone was still a little apprehensive about [same sex relationships]. Then they realized, 'Wow, everyone is really into this stuff, and it is fine.' The next thing you know, [gay marriage] is legal."

Uh huh, yeah, okay, because *everyone* takes her show *so* seriously—not to mention the fact that it's not even a show about gays. It's about bi-sexuals—and it's all fake.

Someone needs to tell the hoe not to flatter herself, and that the chances of her show actually having influenced anyone's decision to allow Gay Marriage is about as likely as the chances that Heidi Montag's public McCain endorsement will help him win the Presidential election.